KATHY KELLY & Norbert
"Shades Of Music"
18.06.2016 OLOMOUC (CZ)
Atrium ZŠ Heyrovského
Heyrovského 33, 779 00 Olomouc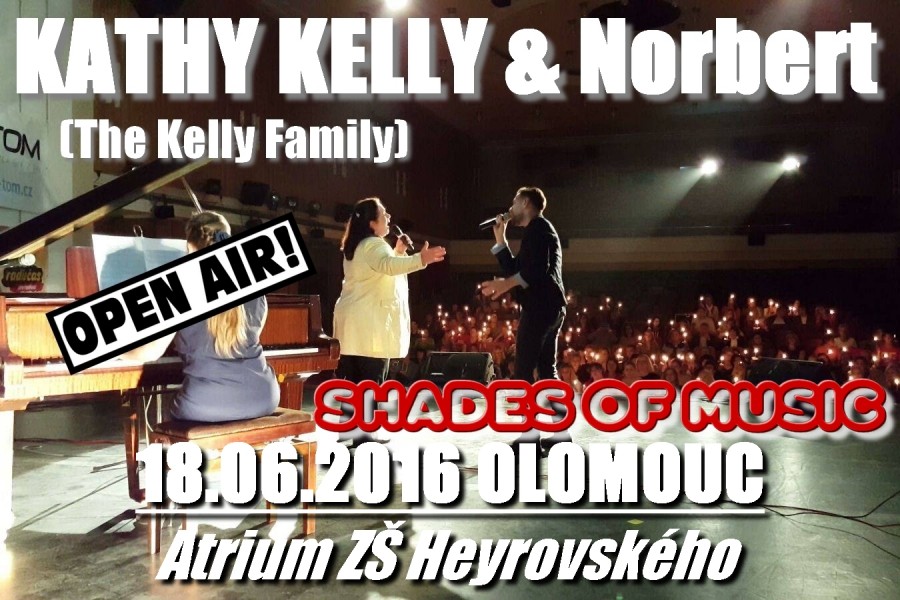 DOORS OPEN:
18:00
START:
19:00
TICKET PRICE:
Platinum: 560,- Kč
Golden: 460,- Kč
Silver: 350,- Kč
VIP TICKETS: 980,- Kč / 37 EUR (only available via ticketbooking@seznam.cz)
VIP package:
- Early entry at 16:00 + soundcheck
- Meet & Greet prior the concert
- Right for the best place choosing
- VIP pass + welcome drink
- Package with some presents connected with this tour
TICKETS:
You can also select English language and buy your ticket via Czech Eventim. There is also a possibility to print your ticket at home.
-
www.kellys.wbs.cz
( Order your tickets via email kellyswbs@seznam.cz or ticketbooking@seznam.cz)


Vstupenky na koncert Kathy Kelly v Ostravě (DK Akord) si můžete zakoupit ZDE:
Můžete si je objednat na emailu ticketbooking@seznam.cz nebo kellyswbs@seznam.cz
Prosíme, zadejte:
Jméno
Adresa
Emailová adresa
Počet vstupenek
Bude Vám zasláno číslo účtu a po obdržení platby Vám budou zaslány
vstupenky poštou. Neakceptujeme zasílání na dobírku.
Cena poštovného je 30 Kč.
POZOR!!! Předprodej vstupenek končí 10.06.2016!


Tickets for Kathy Kelly's concert in Ostrava (DK Akord)!!!
You can order them on the email ticketbooking@seznam.cz or kellyswbs@seznam.cz
Please, enter:
Name
Address
Email address
Number of tickets
The account number will be sent to you and after receiving the payment your tickets will be sent by post. We don't accept cash on delivery. The shipping price is 30,- Kč (1,2 Euro).
CAUTION!!! The ticket sale will be finished on 10.06.2016!

HOW TO GET THERE:
ACCREDITATIONS:
It is possible for all the Czech newspapers and media to get an accreditation for this concert. Please, write on the email kellyswbs@seznam.cz
We will request your real journalistic pass and after that you'l get an official press card.